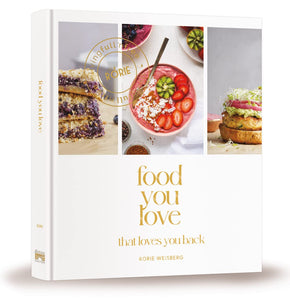 Since 2015, Rorie Weisberg, CHC, recipe developer, health columnist, and founder of Full 'N Free, has been showing the kosher community how doable and delicious it is to enjoy the foods we love … with ingredients that love us back.
Food You Love transforms all your traditional favorites. Pancakes for breakfast, pizza for lunch, schnitzel for dinner. Brisket, kugel, and cholent for Shabbos, along with dips, enticing salads, and loads of veggie sides, topped off with chocolate mousse and cookie crumble. You'll enjoy every bite and leave the table feeling full, energized, and confident that you've served and savored only the best.
In this book, you'll find:
>> Over 200 recipes made with wholesome, easy-to-find ingredients. Many of the recipes are gluten-free.
>> Rorie's tried and tested prep + menu planning tips and a list of kitchen essentials.
>> Scannable QR codes to watch Rorie shop, prep, and cook … and much more.
" You'll enjoy both the flavors and the 'Full 'N Free' feeling! "
— Between Carpools Team
" Rorie's food is really next-level delicious. She is a star in the kosher cooking community. "

— Chanie Nayman, Food Editor, Mishpacha Magazine and Editor-in-Chief, Kosher.com

" Rorie is a trailblazer ... she brings quality to the table. "
— Rivky Kleiman, Author, Simply Gourmet and Simply.

" Rorie makes it practical to adopt and sustain a healthy lifestyle. "
— Dr. Don Zwickler, Endocrinologist